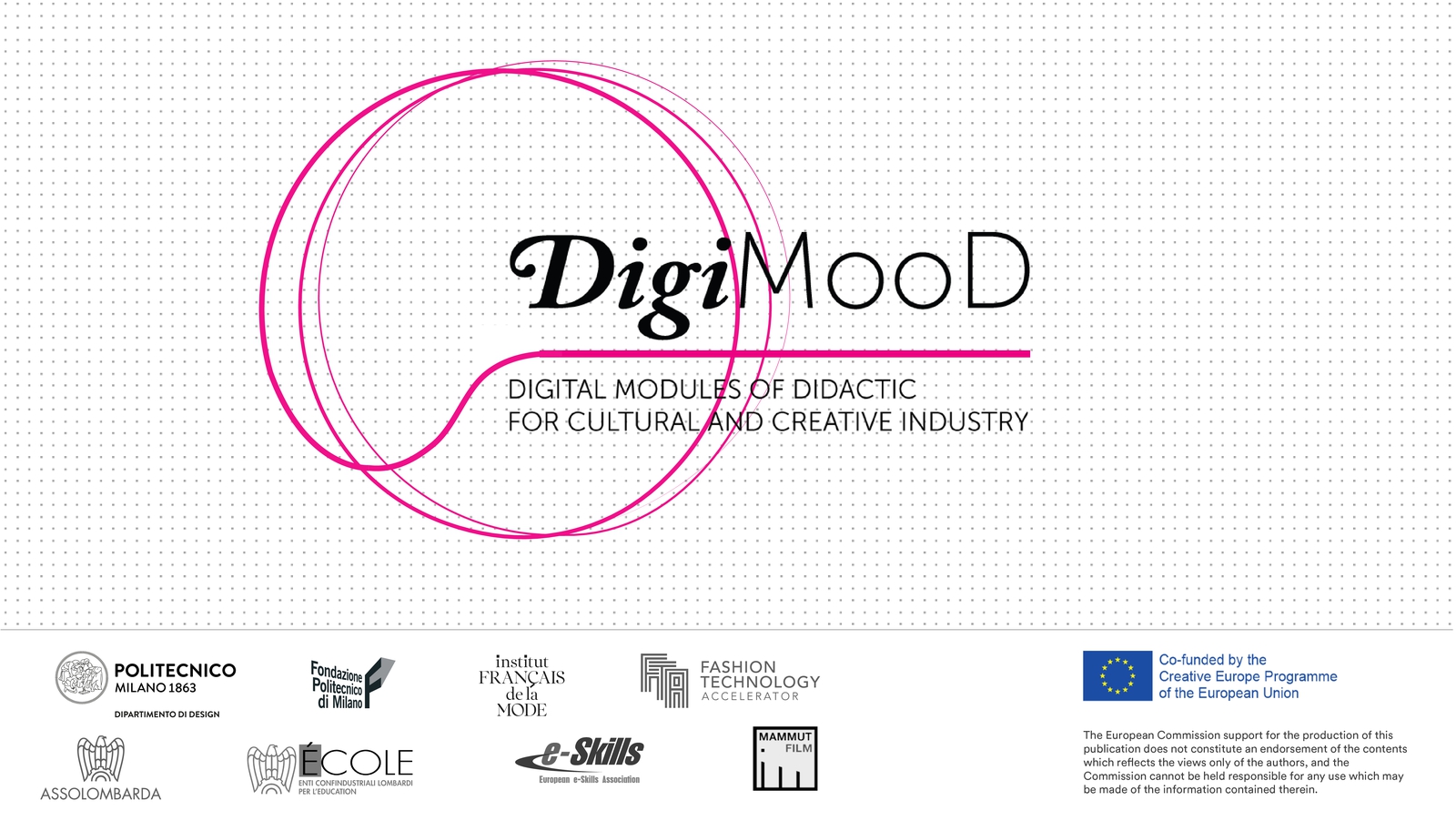 DigiMooD
Digital Modules of Didactic for Cultural and Creative Industries
projectdescription
DigiMooD aims at developing and testing the offer of a set of innovative and interdisciplinary educational modules in "Digital Entrepreneurship for the Creative Industries", with a specific application to the Fashion industry, its companies' branding and narrative strategies and the digital service models.&nbspThis represents an emblematic sector for Europe where the digital transformation is impacting cultural, social, and productive matters thus looking for further experimentation and learning: fashion is a mature sector that is being consistently disrupted by the new generation of key enabling technologies such as digital fabrication, advanced manufacturing, wearables, sensors and embedded systems; this is renewing fashion business models, service systems and consumption habits meaningfully intersecting creativity, technology, and entrepreneurial skills.

Europe can gain decisive competitive advantages internationally if it is capable to generate a wave of bottom-up digital innovations involving all industrial sectors. This is currently still a gap for industrial growth, as the rapid pace of change in digital technologies has challenged most decision makers to decide when to invest, up to what level and in which technologies.
The programme depicted in the project aims at filling this gap by educating the next generation of digital professionals, thus enabling industrial change through educating a new breed of digital and multi-disciplinary young people. When entering the job market, these will be able to support industry not only in understanding, but also in deploying digital innovations. In the long run, this will contribute to generate sustainable economic growth for Europe, as the new professionals will have an important international dimension that will not limit the application of their competences within national borders.
Team
Fip Research Collective
Collaborators
The Department of Management, Economics and Industrial Engineering (DIG), the Department of Electronics Information and Bioengineering (DEIB), and
Fondazione Politecnico di Milano
(Italy) as affiliated entity of Politecnico di Milano (Italy),
Institut Francais de la Mode
(France),
European E Skills Association AIBL
(Belgium),
Mammut Film Srl
,
Fashion Technology Accelerator Srl
(Italy),
Associazione Industriale Lombarda
dei territori di Milano, Lodi, Monza e Brianza (Italy) and its affiliated
Entity ÉCOLE
- Enti COnfindustriali Lombardi per l'Education (Italy).