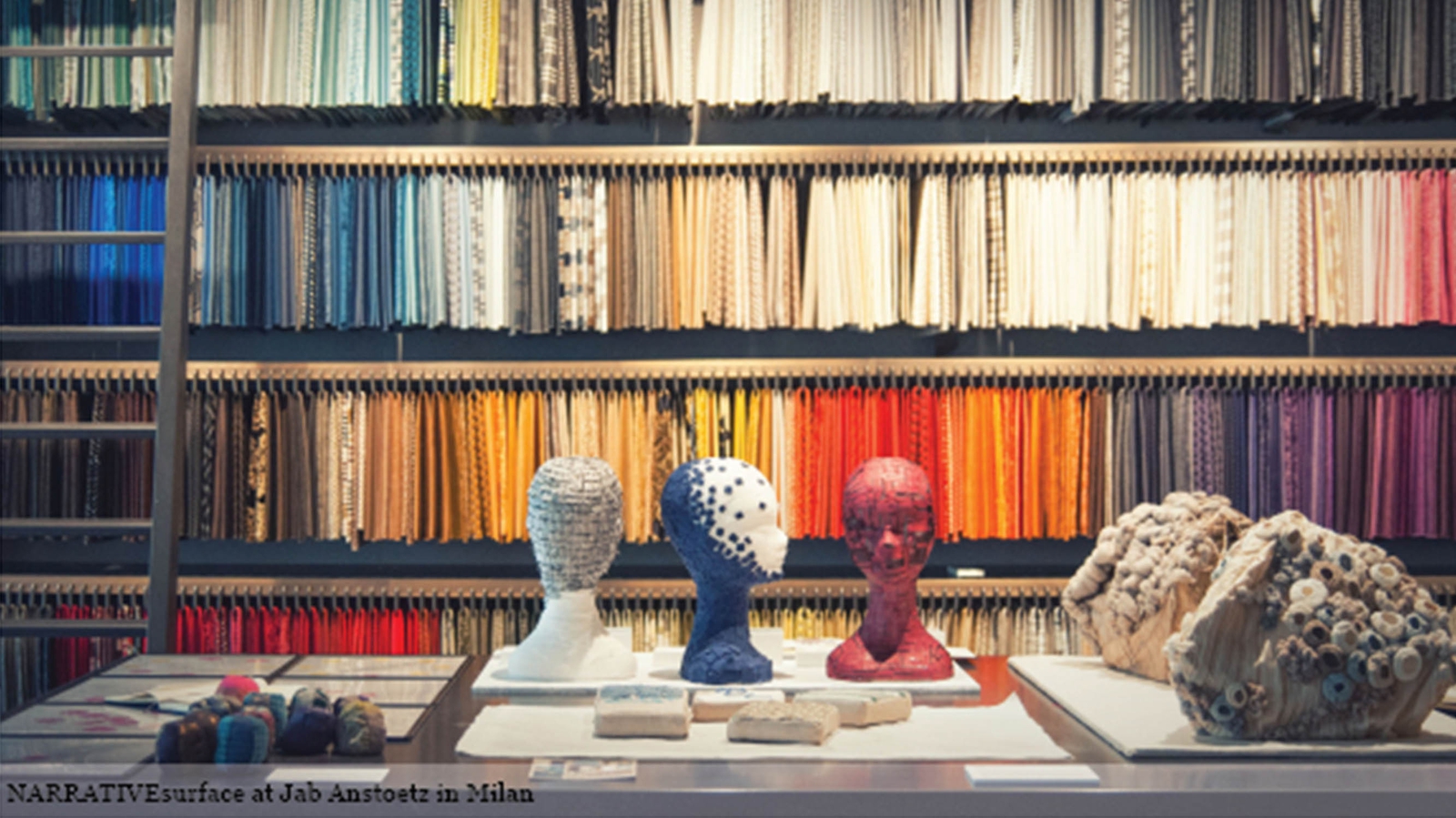 NARRATIVESurfaces
A project developed by Politecnico di Milano in collaboration with Jab Anstoetz visionary top quality textile Germany company.
projectdescription
NARRATIVEsurface is studied with a multidisciplinary approach that combines the culture, creativity and modus operandi typical of Italian design with technological research, giving attention to product development processes with a strong focus on innovation. The research path starts with a sensorial exploration of the domestic space in an attempt to trace its evolution trajectories, looking for the current meanings of living and contemporary rituals. This unique experience aims to interpret textile in an innovative way, rethinking its role within unconventional domestic spaces.

In NARRATIVEsurface, new textile surfaces, infused with a renewed vision, take shape and become witnesses of stories of gestures and everyday spaces. The fabric then becomes a communicative surface, a surprising protagonist of the domestic space, a pliable and adjustable material able to narrate, more than any other material, its most intimate nature, connoting places and objects. Fragments of life mix with warps and wefts, creating new surfaces and suggesting new uses.&nbsp
Team
FiP Research Collective in collaboration with Jab Anstoetz.
Collaborators
Elisa Marazzi, Francesco Lana, Giulia Gatto, Antonella Sechi, Camila Araos, Clara Doglioni, Miriam Kutidze, Nohalia Morrico, Caterina Lotti, Chiara di Lodovico, Cinzia Meroni, Hua Linsheng, Dai Lin Yi, Cristina Alasio, Marta Manfré, Sofia Aiello, Camila Carini Argerich, Elisa Loddo, Stella Garrino.Special Thanks to Roberta Eusebio Ufficio Stampa JAB ANSTOETZ, Matteo Bergamini/PHOTO LAB and Fashion & Knit Lab of Politecnico di Milano