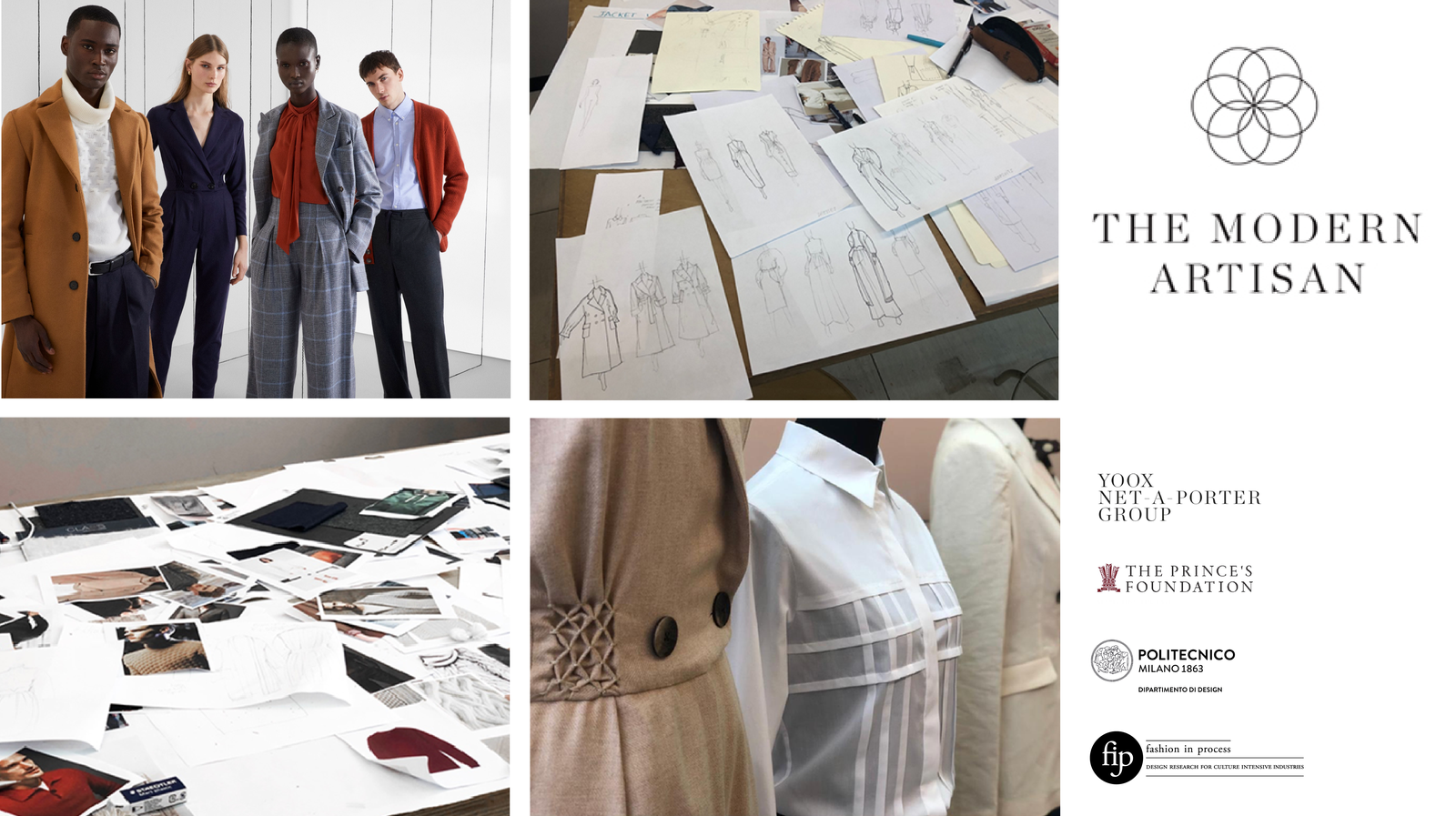 Modern Artisan
A social innovation project with YNAP and Prince's Foundation.
projectdescription
Politecnico di Milano university has been invited to work on the "Modern Artisan" project, a partnership between Yoox Net A Porter Group and The Prince's Foundation in Scotland.
In Politecnico the initiative is led by the Fashion in Process research laboratory (FiP) in coordination with the Fashion Design programs of the School of Design.
The project joins Italian design culture with the artisanal excellence and heritage of the British textiles industry to support the Future Textiles project at Dumfries House in Ayrshire Scotland, a project initiated by HRH The Prince of Wales, President of The Prince's Foundation, aiming to close the skills gap in the British textile industry by training the next generation of artisans and providing education and work for the local community. Though the design, development and production of a sustainable womenswear and menswear capsule collection, the project will promote the importance of education, artisanal craftsmanship and cultural exchange.

The collection will be designed and prototyped at Politecnico di Milano by six fashion design students with the support of a dedicated team of experts from YNAP and faculties as well as of the Design Department's Laboratories.&nbsp Starting from an AI informed merchandising brief elaborated by YNAP through data analytics, Polimi team will celebrate in their inspiration and designs the 500 years anniversary of the death of Leonardo da Vinci, a master of both art and science, whose life's work reflects the DNA of Italian design approach as well as the nature of the project: the marriage of art and manual dexterity with scientific insights and data. A collaborative and cross fertilisation work will follow the design phase, with young Italian designers and Scottish artisans working together on designs and prototypes to then launch the garments production which will be handcrafted by the six artisans in Scotland, at Dumfries House. The collection will not only result from a social and cultural sustainability vision but will also embrace sustainability in its materials and components, all sourced from Scottish and Italian manufacturers.&nbsp The garments will be finally commercialised and sold – in what will be a first for the Group – on all four YNAP platforms (YOOX, NET-A-PORTER, MR PORTER and THE OUTNET) in celebration of the Group's 20th anniversary and profits from the sale will be donated to The Prince's Foundation to support its charitable work in the field of education.
Team
Politecnico di Milano, Yoox Net A Porter Group and The Prince's Foundation in Scotland
Scientific Coordination
Valeria M. Iannilli
Project coordination
Paola Bertola
Project development
Barbara Mugnai
Faculty
Giovanni Maria Conti, Rodolfo Maffeis, Barbara Mugnai, Federica Vacca
Technical staff
Alice Fenzi, Angelo Sabbioni, Laura Vicelli
Students
Giulia Albini, Alice D'Andrea, Andrea De Matteis, Francesca Galloni, Lorenzo Lanari, Andrea Parolini
Students interns
Giovanni Bartolini, Teresa Paterlini.
Special thanks to Lab Moda and Lab Immagine @Polimi