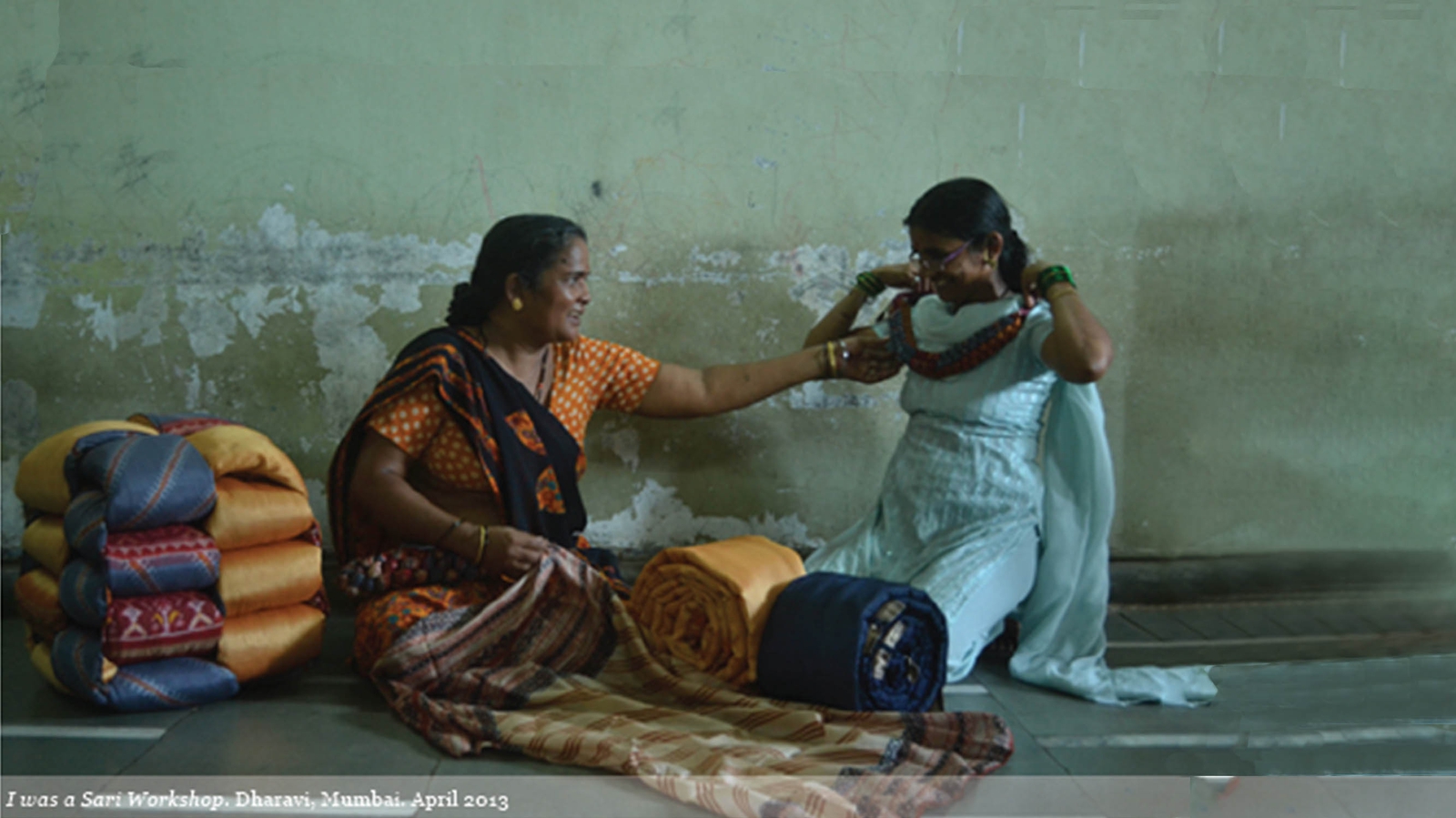 I was a Sari
A Social Initiative: Reinventing the Tradition of the Indian Sari.
projectdescription
I was a Sari believes that women can be the new engine for global development and change; accordingly, it aims to strengthen and improve the socio-economic conditions of underprivileged women in India through supporting their evident knowledge of the traditional wear with enhanced manufacturing skills. The project presents a design activity aiming to reuse second-hand saris and the reinterpretation of textile craft techniques. The outcome is a collection of original textile objects produced in Mumbai and distributed internationally to create a micro-fashion sustainable business.

I was a Sari started with the collection of old Indian saris which the Indian women will embellish, through textile "manipulation", to create objects that are related to the body or the home space that can embody not only the functional and aesthetic values of the design matrix, but also the value linked to the local craft traditions. Thus, concept proposals were born, co-designed and co-produced by designers and artisans who were able to capture unique aspects belonging to the Indian culture with a contemporary vision and in line with the needs of the contemporary market. Through a tight synergy with "sensitive" players in the field such as CORP India, Srujna, Sui&Dhaga and Reality Gives, I was a Sari aims to develop design actions to enhance the local heritage of knowledge and material culture and create the necessary conditions for the professional education of women. The general goal is to allow the Indian women to gain a better quality of life through the development of a system of self-employment, looking at the niches of the international markets as a privileged and growing channel of sales and distribution.
Team
FiP Research Collective in collaboration with CORP India, Srujna, Sui&Dhaga and Reality Gives, a group of Mumbai based NGOs supporting underprivileged women from the city slums.
Collaborators
Project & Designers "Criss Cross" by Chiara Cavanna & Annamaria Patera; "From Place to Place" by Margherita Mazza, Laura Guarneri & Valentina Rossini; "I'm a garden" by Caterina Coccioli & Angela Signorelli; "Tales in thread" by Francesca Soffientini Mumbai NGOs Stefano Funari for CORP; Letizia De Martino for Sui&Dhaga; Jyotika Bhatia for Srujna; Summer Star for Reality Gives Artisan Women from Mumbai Meera Singh, Dipti Kadam, Gulabsha, Kajal Chauhan, Chellathai, Khalida Sheikh, Anita Sharma, Geeta Chauhan, Rajni, Geeta Verma, Sabira Sheikh, Nagma Sheikh, Vijaya Shetty, Chandbi Sheikh, Pushpa Verma, Maya Verma, Neeta Patil, Hemlata C., Vinita.
Link/Main Publications
I was a Sari web page
&nbsp
"Innovazione sociale e nuovi linguaggi di design sostenibile [Social Innovation And New Sustainable-Design Languages]"
by Paola Bertola, Chiara Colombi, Federica Vacca in Baroncini D. (eds.), Zone Moda Journal - Special Issue "Fashion and Well-being", Pendragon, Bologna (Italy). ISBN: 978-88-6598-605-9 "
Design.Re.Lab: How Fashion Design Can Stimulate Social Innovation and New Sustainable Design
" by Paola Bertola, Chiara Colombi, Federica Vacca in The International Journal of Design in Society, Vol. 7, No. 4, 2014, pp. 47-61. ISSN: 2325-1328&nbsp I
was a Sari @ Verve Magazine
(Vol. 21, Issue 8, August, 2013)